Answers to the most commonly asked questions about the hows and whys of fertility treatment, including IVF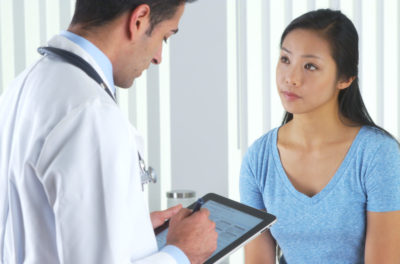 Undergoing infertility treatment can seem overwhelming, especially if you've never sought help from a fertility specialist before. Even if you have had assisted reproduction treatments in the past, it's very common to still have questions about things that can happen before, during and after treatment.
We've compiled and answered some of the most frequently asked questions we get every day from new and current patients concerning fertility treatment, our policies, how in vitro fertilization (IVF) works and facts about fertility medication.
Questions about fertility consultations & our policies
How do I know I need to see a fertility specialist?
If you're under the age of 35 and haven't conceived after a year of frequent, unprotected intercourse or if you're 35 or older and haven't conceived after six months, you should see a specialist.
If you have experienced problems with your fertility in the past or have a condition that affects your fertility, you should also speak with a fertility specialist before trying to get pregnant.
Read more on when to see a fertility specialist
Should I bring my partner to my consultation?
Yes, we encourage that. Infertility can be due to either male or female factors, so we will need a full discussion with both partners regarding their health history and their families' in order to make an accurate evaluation. Additionally, fertility treatment options will often require the participation of both partners. If your partner is present, we will be able to explain the process and procedures available to both of you, without having to set up an additional consultation time.
Do you have an age cutoff for fertility treatment?
We will discuss fertility treatment with a woman well into her 40s and beyond to arrive at a decision about possible treatment with her. Some women become infertile at age 30, some are still fertile after age 42, when fertility declines quickly and options are limited. After testing we may go right to artificial insemination, IVF, or egg or embryo donation. Using a gestational carrier (surrogate) is also an option, even for women in menopause.
Do you treat overweight or obese patients?
Of course! We do not have a strict body mass index (BMI) cutoff, although research does show that a healthy weight can greatly improve a person's fertility. If your weight is affecting your fertility, we may refer you to Loma Linda University for weight management services as part of your fertility treatment.
How weight loss can improve your fertility
Will my insurance cover my treatments?
Unfortunately, not all insurance plans cover fertility treatments and fertility insurance plans may only cover some treatments. Call your insurance company's customer service number and inquire about your specific benefits. We also have a financial counselor to help you better understand your treatment plan's costs and what will be covered by your insurance.
Read more on understanding your insurance coverage
Can I email the doctors or staff about my case?
We do not use email to correspond with patients, but you can communicate with us electronically through our patient portal. We are compliant with HIPAA (Health Insurance Portability and Affordability Act), which means we have security protocols to keep our patients' health information and personal information private. Email is not a secure method of communication and is not considered HIPAA compliant. The portal allows staff and doctors to respond to your questions and requests quickly, without compromising the security of your personal information.
Learn more about our patient portal
Questions about IVF
How likely is it that I will get pregnant after IVF?
It is quite high in comparison with other fertility treatments. Generally, more than 1 in 3 women get pregnant after IVF. You can also view our IVF success rates to get an idea of your chances for getting pregnant. But unfortunately, there is no way to know for certain if you will get pregnant after IVF. Many things can affect your success, including your age, medical history and a variety of issues related to the female's reproductive system and the male's sperm.
If an IVF cycle isn't successful, how long before I can try again?
Depending on your situation, you may be able to undergo another IVF cycle immediately after a failed attempt. In many cases, our patients like to take a month off before starting the IVF process over.
If you are a woman of advanced maternal age (35 and over), we generally recommend that you don't wait too long between IVF treatments. Waiting even a few extra months could reduce your likelihood of success, because at this age a woman's fertility declines quickly.
Why do I have to wait two weeks after trying to get pregnant to take a pregnancy test?
Taking a pregnancy test without waiting gives you unreliable results. That applies no matter how you've tried to get pregnant – naturally, with medications, through insemination or with IVF. There is no way to know if pregnancy test results are accurate until after the 14-day mark. And even then, we will do blood work to determine whether or not you are pregnant.
Is a baby born through IVF at a higher risk for birth defects?
Research does not indicate that IVF will increase your risk of having a child with birth defects. Some studies show that babies conceived using IVF have a 4-5 percent chance of being born with birth defects, while others show a rate of 3 percent. Babies conceived naturally have a 3 percent chance of having birth defects.
Other studies have found that if there is an increased risk of birth defects, it is not related to the method of conception (IVF), but to the characteristics of the people who tend to get IVF. In either case, while there is a possibility of an increased risk of birth defects, the overall risk remains very low. Through preimplantation genetic testing, IVF patients can find out if their embryos are free of chromosomal anomalies before implantation for pregnancy.
What is the egg retrieval process like, and will I have to miss work?
Your doctor will explain the egg retrieval process, all of the risks of surgery and the potential complications before, and on, your surgery date.
First, before you undergo an egg retrieval, you will take fertility medications that stimulate your ovaries' follicles, the part of the ovary where eggs develop. Once your doctor has determined your follicles have produced enough eggs, we can proceed with the egg retrieval.
During the egg retrieval procedure, you will be placed under conscious sedation anesthesia. Preparation for surgery takes about an hour, but the actual egg retrieval procedure itself takes as little as 15-30 minutes. Your doctor will insert a needle into your ovary's follicles through your vagina and collect your eggs. You shouldn't feel pain during the retrieval and will likely not remember it taking place.
You should not work on the day of your surgery, but many people return to work the next day. Side effects are generally mild and may include bloating, cramping and constipation.
Questions about fertility medication 
Are fertility medication injections difficult to do, and do they hurt?
Fertility medications are given orally or by injection, depending on the treatment and the individual's situation. And while the prospect of regularly giving yourself injections may seem daunting, patients adjust to the process well, particularly with the training we give them. Your partner can also be a big help by giving you the injections or by being there for support.
The needle you will use to inject your medications is very thin and may feel like a pin prick when it pokes your skin. As you inject your medicine, you may feel a mild burning sensation, but any discomfort usually lasts only a few seconds.
Can I travel during my treatment? What happens if I need to take my medication on a plane?
In most cases you can travel short distances when undergoing fertility treatments. But if the timing of a procedure is essential, it may be necessary to postpone any planned trips until after an egg retrieval or IVF cycle. Depending on the treatment you pursue, your physician can talk to you about specific activity restrictions.
If you need to take your fertility medication onboard a plane, inform the TSA officer before the screening starts that you have medication and keep them separate from other belongings.
What happens if I miss a dose of medication?
Usually this is not a significant problem. But as soon as you realize you have missed a dose, contact us so we can adjust your treatment plan accordingly. We may recommend you adjust your next dose or we may adjust the timeline of your treatment.
Can I return any unused medication?
Unfortunately, we are unable to take back unused medication. We do our best to prescribe the right dosages, but in some cases a person may react differently to the medication than expected.
In instances where you have extra, unopened medication, you can speak to us about possible donation options.
Have a question that wasn't answered here? Contact us or submit a question for our blog.