In online reputation management, a 5-star review rating is the best. But ignoring that, Dr. Gihan Bareh's total focus is on each patient's experience and success.
Online reviews give patients a chance to share their feedback about their experience with our clinic and are also the first impression for potential patients to use when considering what provider to select for care. As a conscientious fertility doctor, Dr. Bareh doesn't even think about reviews online when talking with patients and providing care. As an ironic result, she's humbled to receive 5-star reviews other providers would love to have. For example, out of 102 Yelp reviews, 96 are 5-star reviews.
Key to 5-star reviews: 100% patient centered care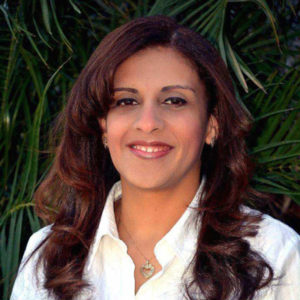 At Loma Linda University Center for Fertility, all of us work hard to provide individualized, patient centered care. With patient centered care, we focus on the patient's needs, not ours. Our goal is to bring them into the care as partners, empowering them to actively participate. To accomplish this takes compassion, expert communication skills and patient education.
We start customizing the care for each patient by discussing her or his medical history in detail including past treatment. This brings the patient into the care plan while guiding us to address the issue for each patient instead of following the same protocol for all.
The appropriate care can be very different from one patient to another. Our clinic focuses on the details in order to find out what works best for each unique patient. And we talk about these details and approach with the individual.
As an example of personalized care, our nurses provide one-on-one instructions to patients on how to administer their shots and how to work with the medications. The injection training is in-person, and the nurses make sure the patients are comfortable with the process.
All in the family
I feel like the team we have is awesome because everyone makes sure all the patients feel like they are part of the family – our family. From day one the staff makes patients feel like they are a part of our family and are very personable. Our staff members make sure the patients feel that they are important by trying to stay in tune with the patients' personal lives, such as talking about a trip the patient has coming up.
"Dr. Bareh is an amazing doctor. The team at the IVF clinic are angels here on earth. They take their time to get to know you, let you ask questions without being rushed, and you aren't a number there so that is something you shouldn't worry about!" – Atavia from our testimonials
Personal trust promotes the best patient experience – and outcomes
Ultimately, we aim to make the patient feel like she's the most important patient in the office. If we have patients who are unhappy and frustrated, we try to look at the end result and discuss with them their options, keeping them involved in the whole process.
We know that every person undergoing fertility treatment is different. Some people are really hard on themselves, and some people are kind of ready to move on. It's important to get to know the patient very well and learn how to approach him or her, as it can be very different from one patient to another.
Patients want to trust you and be confident in how you suggest and talk about the care decisions that are right for them. Personal trust is very important because if you don't gain a patient's trust, the care is not going to go well. So, we make sure that the patients really trust our care decisions. In order to accomplish this, we have to prove that we are knowledgeable enough and that we are paying attention to all the details.
Patients who feel rushed or ignored don't give 5-star reviews
Our goal is to give each patient the time they need during an appointment. We never want our patients to feel rushed, even in situations when we are in a hurry. One way I show that is by continuing to ask them if they have any questions. I don't want patients to feel that I am rushing them through the chance they have to speak to me about anything that's on their minds. That can be about treatments, their concerns and their emotions.
It's not just about my time management with a patient. By making sure everything is organized on our end – from intake to the entire patient-flow system – we can ensure that patients never feel rushed.
In a medical practice, sometimes things don't go as planned. When that happens, we are honest with the patient about any holdup and work hard to get the schedule back on line. That honesty is sometimes mentioned in the 5-star reviews we receive.
We want to be responsive when patients contact our practice. We make sure to answer all emails in a timely manner, and the nurses try to answer all the phone calls and voicemails on the same day. Any time a patient emails or calls the clinic after a visit, I will call them back and follow up personally.
And once the patient's lab work comes back, I personally reach out to each patient and develop a plan that suits them.
"The entire team at Loma Linda University Fertility Clinic were all professional and exceptional at their job while at the same time being empathetic and supportive through what was a long and emotional journey!" – Julie Maree from our testimonials
We take a holistic medicine approach to fertility
At Loma Linda Center for Fertility, we are not treating just fertility, we are dealing with the patient as a whole. We take a holistic medicine approach, practicing holistic fertility. A patient's health is affected by lifestyle, body, mind, emotions and spirit. If one of those elements is unbalanced, it affects one's entire health, including fertility. In this holistic approach, the patient and the doctor both work on health improvements.
For example, sometimes patients are dealing with mental health issues, stress or other physical issues or diseases that can be an underlying cause for infertility. When we examine the patient as a whole, we often go in and start diagnosing things that may have been missed before by other doctors.
We send them for referrals for such things as high blood pressure, which can be managed by a primary care doctor. This absolutely makes a difference in their outcomes.
"I did several consultations when searching for a new clinic and chose Dr. Bareh because I could tell from the very first call that she was extremely knowledgeable. She made sure everything was done properly so that I had the best chance possible to get pregnant!" – Jamie Tucker from our testimonials 
Optimistic even delivering bad news like a negative pregnancy test
I always try to be optimistic, but I try to be realistic as well. To avoid patient disappointment, I make it a point to discuss the odds of success for a particular treatment while being forthcoming, but with the right amount of compassion.
It's essential to make sure our patients don't get to a place where they are depressed and lose hope. When we discuss the success rates, I always promise them I will do my best to help them out. I just want us to be on the same page, so they don't have different expectations.
"When things aren't working right and you are struggling to get pregnant, this is the doctor you want on your side. Dr. Bareh is the perfect combination of knowledge and empathy." – Samantha from our testimonials
Encouraging patients not to give up when there is still reasonable hope
When a patient has a good outlook on treatment, I will keep encouraging them not to give up. There are instances with other patients when after one or two transfers things do not work out, and they start to give up. So at this time we just have to regroup and look at other ways of doing things or changing protocols.
I make it a priority to let my patients know that I don't give up hope quickly. I also let them know that if it gets to a point when there's no more hope, I will let them know and not drag it out.
If a patient has a negative pregnancy test it's heartbreaking not only for them but for me too. Over the years I've learned that it doesn't always help the patient to stay motivated if I'm too emotional when they are facing a setback. I've learned how to handle my emotions while sympathizing with the patient and thinking ahead about the next steps because the patient is waiting on me to give good advice.
I've found that it's most helpful to follow these guidelines when delivering bad news and keep patients focused on the next steps or options. I advise patients to take some time to think about the options and to make decisions when they aren't upset and then follow up with them after a few days.
Don't give up on your dreams of family
Infertility is taxing emotionally and physically. But trying to conceive for a year or so without success means it's time to seek a fertility specialist's help. We're here for you, to motivate you, care for you and help you have a child.