A journey through adoption, birth and IVF to grow a big, happy family.
---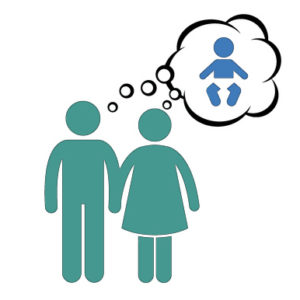 Michael and I were married in October 2006, and we had an amazing little boy standing beside us at the altar – our adopted son, then 10 years old.
In October 2008, we gave birth to our second child, a healthy 8-pound baby boy. We knew we wanted kids, and two was the start!
Two years later, we got pregnant again trying for our third child, but at week 8, we found out that the embryo never developed and we lost the pregnancy. Two years later, we again suffered another miscarriage.
After the second pregnancy loss in 2012, we sought out a fertility specialist who gave us the news that my eggs were aging very rapidly. At 31, when I should have been in the "prime of production," my eggs actually thought I was about 60, so the chances of me getting pregnant became marginally slim.
We also found out that due to the nature of the former losses, even if we had been able to conceive, the chances of having a successful pregnancy were just as low. At this time we were recommended for in vitro fertilization (IVF), but due to the financial commitment and insurance restrictions, the timing just wasn't good for us.
But we aren't quitters. We believe we were called to be parents and having one adopted son already, we decided it was a good idea to break from attempting to conceive and try to adopt again.
On October 10, 2013, we welcomed our spunky 13-month old and smart, talented 17-year old daughters to our family! We were ­– and ARE – so happy but still, the longing to carry a child again never went away.
IVF at Loma Linda University Center for Fertility
In late 2014, I received a call from the fertility nurse at our OB/GYN office, who had been looking into our insurance carrier, and she told me that she believed we had a supplemental plan that might assist with IVF!
I'll be forever grateful to that woman who went above and beyond the call of her job to go that extra mile for us.
Luckily, since we'd already seen a specialist there, it took no time to get us in and start talking about what our options were. Drs. Fong and Wong were very knowledgeable about our situation and felt that they could certainly help us in our journey.
From our first visit to Loma Linda University Center for Fertility, I felt peace. The office staff, nurses and physicians at the clinic treated us so well, and gave us time to think about our options and make informed choices.
We decided to begin our cycle in late February for a March embryo transfer. The doctors and staff clearly laid out our medications with lots of instructions, and a calendar to keep up with what to start, continue and end. They were always available to answer questions and provide support throughout the process.
When the time came to retrieve my eggs, the procedure was explained to me and the doctor retrieved nine eggs! Our embryo transfer date was scheduled five days after the egg retrieval to allow time for the eggs to fertilize and develop into embryos, and we found out that five made it through the process.
At the time of transfer, four embryos were healthy enough to use, and with the recommendation from Dr. Wong, we decided to transfer two embryos and freeze the remaining two.
Dr. Wong told me exactly how to care for myself for the next two weeks, and boy did I listen! On April 1, I officially received a positive Beta (blood test) with results that indicated we were successfully carrying BOTH embryos. Our first ultrasound confirmed two very precious and strong beating hearts.
As I type this story, I'm 24 weeks pregnant with one boy and one girl, both doing well.
Every time I feel them kick or hiccup, I have to be grateful for everything the staff at LLU Center for Fertility did for my family.
A lot can happen in the next 16 weeks, so I'm forever cautious, but I wouldn't be here without the hard work and dedication they put into getting me this far!
Sincerely, thank you all!