After years of disappointment, Samantha could not envision seeing a positive sign on a pregnancy test –  but she has now, all thanks to an egg donor.
---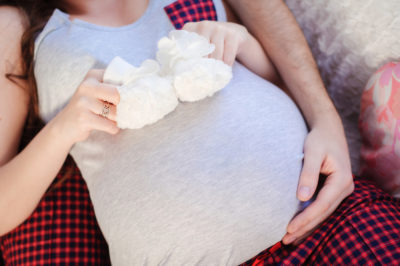 Samantha and Trevor were not strangers to fertility treatments having used some of them trying to build their family for four years. After a year-long break they knew they were ready to take the next step, because they could not see themselves not having kids.
"I knew when deciding to restart trying fertility treatment that using an egg donor would be brought up. It was something we had already talked about," explains Samantha, who for the sake of privacy is not using her real name. "Dr. Bareh brought it up and we told her we were open to it because we are just wasting time trying to use my eggs."
Dr. Gihan Bareh suggested an egg donor because Samantha has a diminished ovarian reserve. The couple tried with intrauterine insemination (IUI) and in vitro fertilization (IVF) but still were not having any luck conceiving.
"I never got the sense from Dr. Bareh that all options were lost," says Samantha. "She did not make us feel pressured into what she thought we should do. She let us do what we wanted to do but still made us informed of our odds and options."
The couple was also considering using embryo donation but ultimately decided to use an egg donor so Trevor's sperm would be used and the baby would have his DNA.
"I had already resigned myself that my child would not share my DNA," says Samantha. "But I really wanted to carry the child myself."
Because of this, going into the appointment at LLU Center for Fertility & IVF they had already expected egg donation to be the next step going forward.
Choosing an egg donor
While talking with Dr. Bareh, Samantha and Trevor learned about the Center's egg donation program.
"I gravitated to their program because it was completely anonymous and they had a list of people who were already approved."
The practice also allows a patient to bring in his or her own donor, but the couple did not know anyone they felt comfortable asking to be an egg donor.
"Even though the child would not be mine biologically, we were able to find a donor that looked similar to me in eye color, hair color, ethnicity and height. We looked similar enough that we could pass for cousins," says Samantha. "It was important to find someone that looked like me so that people would think that it is my kid."
Syncing, retrieving and not waiting
After choosing the donor, the clinic needed to complete a few tests, including a physical and physiologic evaluation of the donor.
Once the donor passed the tests, she started taking medication and shots to stimulate her ovaries to increase egg growth. During that time Samantha started taking birth control pills to sync her menstrual cycle with the donor's. After the egg retrieval from the donor, Samantha needed to take medication to get her uterus ready for a transplant.
During the entire process the staff kept Samantha and Trevor informed of the progress of the egg donor's follicle count. The clinic ended up retrieving close to 40 eggs, which were fertilized with Trevor's sperm in a laboratory dish. The eggs were monitored to confirm fertilization and cell division were taking place. Once an egg is fertilized it is considered an embryo.
"Every day they would call and give me an update on my embryos. By day five we had 11 embryos left," says Samantha.
Dr. Bareh transferred two embryos, and told the couple to wait two weeks to see if Samantha was pregnant.
"But I didn't wait; I tested myself 10 days later because I could not stand it anymore," says Samanta. "After multiple years of disappointment, I could not envision seeing a positive sign. When I saw the positive sign, I didn't believe it and thought it was an old test, and went to the store to get another one."
She took that home pregnancy test, and it was still positive. At the two-week mark Samantha went to the clinic to get her blood tested to reveal the definitive result.
"Even though I knew the home tests were positive, I could not concentrate at work until the clinic called me a few hours later to let me know my hCG [human chorionic gonadotropin] levels were high, and she congratulated me on my pregnancy," says Samantha.
During that phone call the nurse told Samantha that she had three weeks until her next appointment with the Center and to call if there was anything she needed.
"I was just thinking, after all of these years of constantly going to the doctor and being poked and prodded and always having to do something, you are just going to let me be pregnant?" Samantha says with a laugh.
Seeing her unbelievable baby
At six weeks, Samantha's husband was out of town, so her best friend joined her for the first ultrasound. Samantha broke down in tears.
"I convinced myself that this would never happen, and then to see the baby and the heartbeat was unbelievable. There is actually something living inside of me and my body is doing what it is supposed to do," says Samantha.
Samantha praises the doctors and staff, mentioning that there was one thing that made the practice stand out to her.
"What I really liked about Loma Linda is that their equipment is state-of-the-art. It is so clear you can see everything on the ultrasound," says Samantha, who learned after heading back to her OB's care that not every ultrasound machine could provide this much detail. "At six weeks the baby is just a blob, but in the ultrasound you can see and hear the heartbeat."
Testing fertility sooner rather than later
"I wish I had known I had diminished ovarian reserve in my early 20s. I don't know what I would have done about it but having gone through what I have, I would tell people to get tested earlier than later to make sure everything is okay," Samantha advises. "I feel that many people take for granted that when you are ready to get pregnant it will work."
Dr. Bareh says many women feel the same way after they finally discover their fertility problems after waiting a long time to get help. She encourages testing for women who are either trying to get pregnant without success or are interested in learning early if they will have troubles when they would like to start a family.
Samantha's so glad she found the answers to her long, drawn out ordeal to conceive. Her baby girl is due in July 2018 and she couldn't be happier.
"The baby is yours, and it does not matter if it is your egg or not," she says. "Sometimes I still can't believe that it worked – I have to remind myself, Oh yea you are pregnant, this is actually happening."
Samantha and Trevor are hoping that additional kids are in their future. They have nine frozen embryos left from the egg donor.
"All those years that we tried to cope with not having children and now we joke that we can have a huge family with a ton of kids, all thanks to an egg donor and Loma Linda Center for Fertility & IVF."