From caregiver to care receiver, Loma Linda University Medical Center nurse finds intrauterine insemination success and extraordinary treatment at LLU Center for Fertility.
---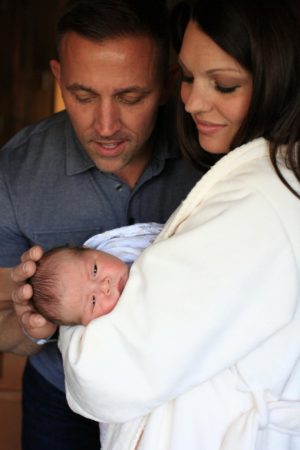 Katie Thompson, a neonatal intensive care nurse at Loma Linda University Medical Center, spends her working days surrounded by newborn babies who need a little extra help in their early days. When it came to conceiving herself, Katie realized that she was going to need some assistance of her own.
Although she and husband, Tony, had been trying to get pregnant for a year and a half, they didn't want to undergo in vitro fertilization (IVF). "Morally, we were just opposed to that form of fertility assistance," says Katie. "We also didn't want to run the chance of having multiple births."
So, unable to conceive at 32, Katie took advantage of her Loma Linda University insurance plan that covers fertility services.
"Looking back, I wish I would have gone sooner," says Katie.
Learning more about artificial insemination
The couple visited Dr. Gihan Bareh, both of them feeling a little nervous and apprehensive about how things would unfold. Once they met Dr. Bareh, their trepidation melted away.
"Dr. Bareh was so kind to us from the moment we met her," says Katie. "We knew that no matter what happened, we were going to be treated right."
Katie says that during her first visit, she expected to merely have a discussion. But instead, Dr. Bareh offered – in addition to a standard fertility consultation – to also perform an ultrasound that would examine her ovaries, as well as collect a sperm sample from her husband.
Katie's ovarian structures appeared normal so the couple walked downstairs to collect a sperm sample at the LLU Center for Fertility's andrology lab. The results, delivered the very next day, were telling. Her husband's sperm count was on the low side and the sperm were abnormally sticky — which causes the sperm to get trapped and impedes its ability to reach the egg.
Because IVF was still off the table, Dr. Bareh recommended that the couple consider undergoing the artificial insemination procedure intrauterine insemination (IUI). The couple agreed.
Going for it with IUI
To prepare for an IUI, Katie needed to have a hysterosalpingogram. In this procedure, a fertility specialist floods the uterus with dye to highlight the entire womb and takes X-rays to ensure everything was ready for her procedure. All looked well.
Tony's sperm was then washed (separating the sperm from the liquid semen) to prepare for the procedure. After washing an initial sample of 22 million, less than three million sperm remained. This was disappointing to Dr. Bareh and she advised the couple that this was an extremely low count, making chances of conception much lower than typical IUI procedures.
But Katie and Tony still wanted to go through with it. "We had already made the decision to do it before," says Katie. "We accepted that this is God's plan for us and if we get pregnant that's awesome and if not, we'll be ok."
Katie returned to have her ovaries checked with ultrasound to determine when to perform the IUI. Because of the low count of her husband's sperm, Dr. Bareh recommended to collect twice, the first at home and the second one when the couple came to the office.
She mentioned that this was very unusual to do but she would do her best to get the maximum number of sperm to achieve a higher success rate with the IUI.
After two sperm collections and sperm wash, Dr. Bareh performed the IUI procedure.
Well worth the wait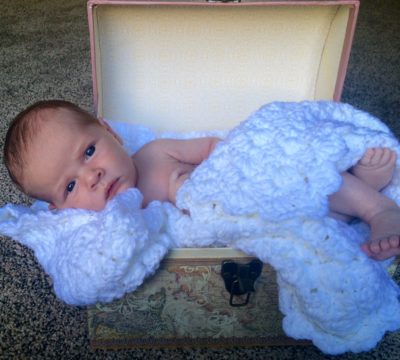 Katie had to wait two weeks before taking a pregnancy test. The test results were positive, but she needed to wait another two weeks to go in for an ultrasound. During that appointment, Dr. Bareh could finally give the news that Katie and Tony had been waiting for: they were going to have a singleton baby.
After nine weeks of normal ultrasounds and checkups, Katie could return to her Ob/Gyn because as Dr. Bareh told the couple, "everything was perfect." Katie says that Tony was so disappointed they wouldn't be going to Dr. Bareh throughout the pregnancy and the delivery of their child.
But Dr. Bareh remained involved during the pregnancy. The structural ultrasounds were sent to Dr. Bareh and she called the couple even before their primary Ob/Gyn did with the results.
"I've never been treated so kindly in my life," says Katie. "Her nurses would call for appointment reminders, but when it came to test results Dr. Bareh called herself. I work in healthcare and know how communication usually goes and that's impressive."
Katie delivered a healthy baby son, Lincoln, at Loma Linda University Medical Center in January 2016 and has been busy keeping up with him ever since. Katie's best advice for others going through similar situations is to go into the process not expecting a guarantee and to visit Dr. Bareh for fertility treatments.
"I wished we would have done this a year ago and not been so apprehensive," says Katie. "I've already sent a few of my friends and would send anybody interested in fertility treatments her way."