That expresses Amy's frustration after four failed IVF cycles a decade ago at another clinic – long before she and her husband turned to Dr. Bareh, who found the obstacle preventing them from starting a family.
---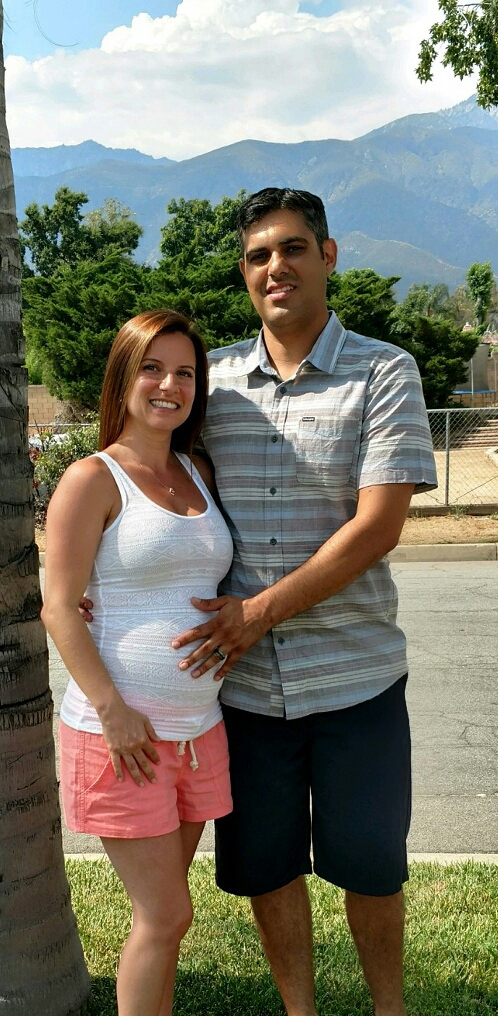 Amy and Matthew always knew they wanted kids, so following their wedding they started trying to grow their family. After a year without becoming pregnant, they decided it was time to talk to her OB-GYN about possible next steps.
After some testing they learned that Amy had endometriosis that was causing her fallopian tubes to be blocked. The fallopian tubes are where the egg meets the sperm and then the resulting embryo continues to the uterus to implant in the lining of the wall. Amy had to have surgery to remove both of her fallopian tubes. She understood the surgery meant that from then on, they would need medical intervention to conceive.
Endometriosis affects over 7 million women in the U.S. Dr. Bareh explains how it can affect fertility.
Amy continued with the doctor who removed her fallopian tubes and started her first in vitro fertilization (IVF) cycle.
"The very first cycle took; blood work proved we were pregnant. But very shortly after I had a miscarriage," shares Amy. "We never even made it to an ultrasound to hear the heartbeat."
Based on the doctor's recommendations the couple tried three more IVF cycles, all of them resulting in the embryos failing to implant. The couple just continued back to back to back treatments.
"All the times that it didn't work, you get a call from the doctors and they say 'I'm sorry you are not pregnant.' That would be the toughest for me, I didn't want to have to go through that again," says Matthew with a sigh.
Shifting the focus away from kids
The couple decided to stop trying for a baby and focus on traveling and growing in their careers. As the years passed Amy and Matthew would hang out with friends and family members who were all having kids.
"We were the odd balls out. While we would still participate in everything, it was different being the only couple without kids," says Amy.
"It was hard seeing all of our sisters getting pregnant in their own ways and having babies," she says. "Being an aunt was amazing, but I had a range of emotions because I was a little envious that they were able to easily get pregnant. It was something I thought I was never going to be able to experience and I had no one to really talk to about how I was feeling."
Giving it another try
As the couple was approaching their mid-30s, they realized if they wanted to have children they needed to do it then to have the energy to keep up with their kids. But this time they were determined to be more involved in the decisions being made.
The experience they had with the fertility center they went to 10 years prior convinced them they did not want to go back. With the lack of communication and information they got there, they knew they wanted personalized care and a doctor who would work with them to find out a way to get pregnant.
The decision was easy.
"My sister-in-law has a friend who did IVF with Loma Linda and got pregnant her first time. Around here we know Loma Linda is a great hospital and have always heard such great things about them," says Amy.
So Amy changed her OB-GYN to one at Loma Linda University. During her first appointment she told her new doctor about her past infertility problems and asked to be tested again.
"In a way, I was hoping she would find something wrong so we wouldn't have to go through all this emotional pain again," says Amy.
The OB-GYN ran every test she could and said everything looked good. She referred Amy and her husband to Dr. Gihan Bareh to get a reproductive endocrinologist started in the process. But first, they took a couple months to gear up and make sure they were ready to try again. Then they made their first appointment at LLU Center for Fertility & IVF.
The right practice
When the couple met Dr. Bareh and told her their story of what all they have been through, they knew they were in good hands. With the recent test results, Dr. Bareh felt that at least one of the previous four attempts should have worked and was determined to find the cause.
"It felt more personal than our last experience," says Amy. "It didn't feel like they were there to take our money, or for us just to be a statistic. With her and the nurses, it always felt like they were family in a sense, and they were concerned with our unique situation and wanted to help us get pregnant."
To find the cause behind why the previous IVF cycles did not work Amy started diagnostics with Dr. Bareh. After a few less invasive procedures they thought it was best to do a hysteroscopy, which uses a lighted tube inserted through the vagina to examine the uterus. Dr. Bareh thought she had found the problem. Amy had a polyp on the lining of her uterus, which Dr. Bareh removed then did a uterine scraping.
"It seemed like something that was so simple. I can't believe it is something that the doctors before never did," says Amy.
Starting a new IVF cycle
After the polyp was removed the couple decided it was time to try IVF again.
"For the first time in a long time we had a lot of confidence about what we were going through. We just knew it was going to work," explains Matthew. "We went through all those cycles in the past with it not working. The very first time at Loma Linda, we knew in our hearts that it was going to work."
They were right. They are now pregnant after one attempt with Dr. Bareh and the LLU Center for Fertility team.
"It was honestly the best feeling to finally be able to tell friends and family members that I was pregnant and having Matthew's baby," Amy says, shedding tears at the memory. "It was what I always wanted to experience as a woman and a wife."
After they saw the baby's heartbeat, the couple let immediate family members and close friends know. But they waited until they knew the gender to tell the rest of their friends that, We are having a boy in December 2017.
Thankfully, Amy and Matthew did not give up. They found a clinic that listened to them and looked deeper to find the cause. Their advice to others who have been trying without luck is, "Don't get stuck to one clinic. If things are not going the way you want, don't be afraid to do your research and talk to different fertility clinics to find the one that is right for you," says Matthew.
"We are thankful for Dr. Bareh and the entire staff," says Amy. "Dr. Bareh is great, she is very straight forward, kind and thoughtful. She really pays attention to individuals, their body and what they have been through in order to help them conceive a child."